To preserve, honor and showcase New England's musical heritage.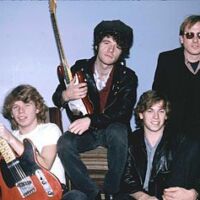 Did they burn out or did they rust? Did they sell out or did they cash in? Did they jump or were they pushed? When it comes to The Del Fuegos' fast-forward rise and slow-motion fall, these questions are debatable but one thing is not: During their 15 minutes of fame in the mid-80s, they were a rollicking example of deftly crafted bare-bones power pop at its punchiest and most passionate. A no-frills cocktail of irresistible melodies, rockabilly-twinged roots-rock, cocksure stage presence and raucous live shows, the tight-as-a-fist quartet was a short-lived next-generation J. Geils Band of sorts, flipping the proverbial bird at other garage-born acts of the era like The Romantics (Detroit), The Plimsouls (Los Angeles), BoDeans (Milwaukee), The Hooters (Philadelphia) and The Del-Lords (New York) while screaming, "Boston kicks ass the hahdest!" Formed in 1980 by New Hampshire-born brothers Dan and Warren Zanes – then age 19 and…
Read More
Support MMONE
If you have enjoyed our website and would like to see more, we could use your help.
Learn More