To preserve, honor and showcase New England's musical heritage.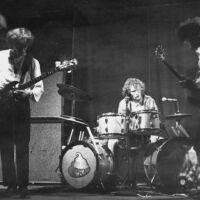 (Born in Arlington, and raised in Waltham and Newton, Andrew Kastner is the guitarist/songwriter/producer and founding member of the Los Angeles-based soul band, Jack Mack & The Heart Attack.) In 1967 I was 17 and I was fully entrenched in the Boston music scene – I fondly remember hanging out at Unicorn Coffee house, a tiny venue at 825 Boylston Street that held maybe 75 people, seeing The J. Geils Band, Ultimate Spinach with Skunk Baxter, Jefferson Airplane and Spirit. It was there that I also met Unicorn owner George Papadopoulos, an encounter that led me on one of the most memorable adventures of my young life. Papadopoulos was building a new club outside of Kenmore Square, and I asked him if I could work there. He agreed, but my "payment" would be free access to shows. It sounded like a good deal to me. After school and on weekends,…
Read More
Writers Wanted
The Music Museum of New England is seeking volunteer writers to help build our site.
Learn More