To preserve, honor and showcase New England's musical heritage.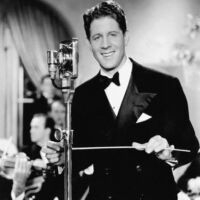 Though he may be best known as the original "crooner" in popular music, Rudy Vallée was also one of the most versatile entertainers in 20th-century America. Born in Vermont in 1901 as Herbert Prior Vallée (though he grew up in Maine), Vallée first found fame as the frontman of his own combo, Rudy Vallée and the Connecticut Yankees (a name no doubt inspired by his time at Yale). Boyishly handsome and more a balladeer than a jazzman, Vallée quickly caught the eye and ear of both young female listeners and record companies such as Columbia and Victor, who signed him and spurred his rise into a multimedia star: live performer (1929's "The Stein Song"), radio host (The Fleischmann's Yeast Hour), and movie star (The Vagabond Lover). Vallée's last big hit was 1943's "As Time Goes By", which was made famous in Casablanca, but he continued to perform throughout the post-war era,…
Read More
Support MMONE
If you have enjoyed our website and would like to see more, we could use your help.
Learn More