To preserve, honor and showcase New England's musical heritage.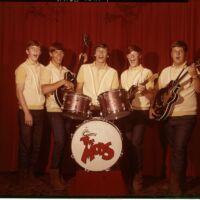 In the excitement of the early days of the British Invasion of 1964, Van Leister and Paul Narotski, two boyhood friends from Mattapan who had harmonized with the songs of Buddy Holly, the Everly Brothers, Del Shannon, and the Beach Boys, watched the Beatles on the Ed Sullivan show, and said, "Let's start a band." Van approached Jack Petersen, whom he had known since pre-nursery school classes at their church, and who Van knew had taken piano lessons for many years. Jack was intrigued, but pointed out that none of them had even held a guitar. Van convinced him that that was a minor inconvenience; after all, they had been singing along with records for years, and sounded pretty good, thank you very much—what's the big deal?? Van's brother Robbie was recruited to play drums and sing back up, but was shortly let go when it was found he couldn't…
Read More
Support MMONE
If you have enjoyed our website and would like to see more, we could use your help.
Learn More