To preserve, honor and showcase New England's musical heritage.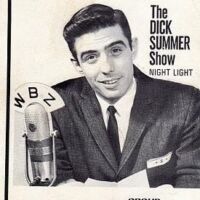 If you were listening to Boston radio in the mid-1960s, chances are you remember WBZ's Dick Summer, and his unique brand of personality radio. Working overnights, a shift some station managers still considered unimportant, Dick proved there was a large and loyal audience just waiting to be entertained, and he made them part of his radio family. Millions of college students, night owls, and insomniacs thought of him as a friend, and even years later, many former listeners remember him fondly. Born in Brooklyn, New York in 1935, he grew up in a musical home: his dad was a church organist and choirmaster, who was also a music teacher. Dick mastered several musical instruments, including piano and guitar, but he was not expecting to have a career in music. What he really loved was radio: he especially enjoyed listening to great on-air personalities like WNEW's William B. Williams. But while…
Read More
Support MMONE
If you have enjoyed our website and would like to see more, we could use your help.
Learn More