To preserve, honor and showcase New England's musical heritage.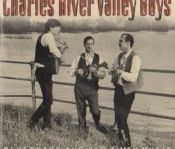 The Charles River Valley Boys line-up and sound shifted from their late '50s formation at Harvard playing "old-timey" songs from Uncle Dave Mason and Charlie Poole to their bluegrass take on the Lennon/McCartney/Harrison songbook for 1966's Beatle Country, but their embrace of both genres helped nurture the folk revival of the '60s in Boston. Originally comprised of banjo player Bob Siggins, and guitarists Ethan Signer and Eric Sackheim, with singer/guitarist John Byrne Cooke joining the group a few years later, the band attracted a steady following, playing on Harvard's WHRB radio station, performing at Tulla's Coffeehouse in Cambridge and releasing 1962'sBluegrass and Old Timey Music on the local Mount Auburn label. By 1966, with a steady line-up of Siggins (banjo, vocals), Jim Field (guitar, vocals), Joe Val (mandolin, vocals), and Everett A. Lilly (bass) (with help from guitarist Eric Thompson, fiddler Buddy Spicher and dobroist Craig Wingfield), the group hooked up with…
Read More
Writers Wanted
The Music Museum of New England is seeking volunteer writers to help build our site.
Learn More