To preserve, honor and showcase New England's musical heritage.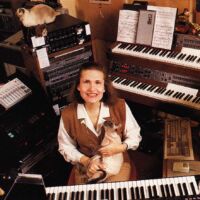 In a four-decade-long music career filled with many achievements and much acclaim, Wendy Carlos played a significant role in getting popular music instrumentation to catch up to the radical ideas of the late 20th century's most revolutionary artists. Carlos primarily achieved this with her most well-known release, 1968's Switched-On Bach, an album that boldly reimagined classic musical and brought the sounds of esoteric electronic instruments (in this case, the Moog synthesizer) to mainstream listeners. "By any sensible definition I'm a New Yorker, not a New Englander." So says Carlos on her web site. And since she had to deal with far more complex issues of identity and sexuality, who are we to say otherwise? But it's worth mentioning here that during a childhood spent in Pawtucket, R.I. (where she was born in 1939 as Walter), Carlos composed a "Trio for Clarinet, Accordion and Piano" at age 10 and at 14,…
Read More
Support MMONE
If you have enjoyed our website and would like to see more, we could use your help.
Learn More