To preserve, honor and showcase New England's musical heritage.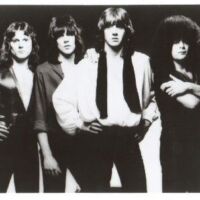 Hard rocking quartet New England — John Fannon (guitar/vocals), Hirsh Gardner (drums/vocals), Jimmy Waldo (keyboards/vocals) and Gary Shea (bass) — got their break in 1979 when their self-titled debut, produced by KISS guitarist Paul Stanley, spawned the classic "Don't Ever Wanna Lose Ya." That anthem cracked the Top 40, sated rock-hungry fans who needed their AOR fix while waiting for Tom Scholz and Boston to complete their long-gestating third album and led to opening tour slots for KISS, Journey, Cheap Trick and AC/DC in addition to their own headlining club dates throughout the region. 1980's Explorer Suite, produced by Mike Stone (best known for his work with Queen, Asia and Journey), and 1981's Walking Wild, produced by Todd Rundgren, delivered more anthemic tunes, but the band, frustrated by lack of support by their label, Elektra, parted ways. Fannon and Gardner went on to successful careers as producers while Shea and Waldo formed Alcatrazz with…
Read More
Support MMONE
If you have enjoyed our website and would like to see more, we could use your help.
Learn More