To preserve, honor and showcase New England's musical heritage.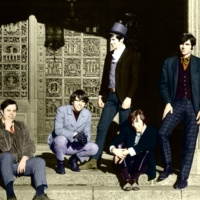 The Fifth Estate is a band that originated in Stamford, Connecticut, as an early 60s rock n' roll band. In the beginning, the band's touring area stretched from Greenwich Village to New Haven to Boston, doing what today is called Garage and Fuzz, even Grunge. To them it was just Rock & Roll. At a very early age, child prodigy Wayne Wadhams played the organ between movies at the Paramount Theater on Temple Street in New Haven, Connecticut. In 1963, Wadhams enlisted Ken "Furvus" Evans, Doug Ferrara, Rick Engler and Bill Shute, and formed the band called the Decadants. At a record company signing the name of the band was changed to the D-Men. As the D-Men, the band signed with United Artists/VEEP recording label and released three songs that were played on East Coast radio stations. The D-Men gained national attention when they performed their song "I Just Don't Care" on the…
Read More
Support MMONE
If you have enjoyed our website and would like to see more, we could use your help.
Learn More